Heute – zum Sonntag – bekommt ihr das Rezept für den besten Schokoladen-Geburtstags-Kuchen den wir je essen durften. Garantiert ungesund aber soooo gut. Gebacken hat ihn Colleen für Livius und Valentin und gegessen haben wir ihn auf Prince Edward Island.
Süßen Dank an Colleen, dass du uns dein Rezept verrätst und gutes Gelingen allen BäckerInnen!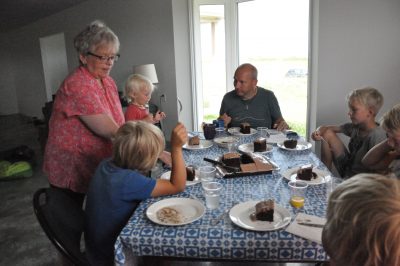 The Best Chocolate Cake Recipe
Ingredients:
2 cups all-purpose flour

2 cups sugar

3/4 cup unsweetened cocoa powder

2 teaspoons baking powder

1 1/2 teaspoons baking soda

1 teaspoon salt

1 teaspoon espresso powder

– I don't add this all time

1 cup milk buttermilk, almond, or coconut milk

– I use buttermilk

1/2 cup vegetable canola oil, or melted coconut oil

– I use vegetable oil

2 large eggs

2 teaspoons vanilla extract

1 cup boiling water
Directions
Preheat oven to 350º F. Prepare two 9-inch cake pans by spraying with baking spray or buttering and lightly flouring.

Add flour, sugar, cocoa, baking powder, baking soda, salt and espresso powder to a large bowl or the bowl of a stand mixer. Whisk through to combine or using your paddle attachment, stir through flour mixture until combined well.

Add milk, vegetable oil, eggs, and vanilla to flour mixture and mix together on medium speed until well combined. Reduce speed and carefully add boiling water to the cake batter until well combined.

Distribute cake batter evenly between the two prepared cake pans. Bake for 30-35 minutes, until a toothpick or cake tester inserted in the center of the chocolate cake comes out clean.

Remove from the oven and allow to cool for about 10 minutes, remove from the pan and cool completely.
Chocolate Buttercream Frosting
Ingredients
1½ cups butter softened

1 cup unsweetened cocoa

5 cups confectioner's sugar

½ cup milk

2 teaspoons

vanilla extract
Directions
Add cocoa to a large bowl or bowl of stand mixer. Whisk through to remove any lumps.

Cream together butter and cocoa powder until well-combined.

Add sugar and milk to cocoa mixture by adding 1 cup of sugar followed by about a tablespoon of milk. After each addition has been combined, turn mixer onto a high speed for about a minute. Repeat until all sugar and milk have been added.

Add vanilla extract and espresso powder and combine well.

If frosting appears too dry, add more milk, a tablespoon at a time until it reaches the right consistency. If it appears to wet and does not hold its form, add more confectioner's sugar, a tablespoon at a time until it reaches the right consistency
_______________________________________________________________________
und noch in DEUTSCH
Das beste Schokoladenkuchen-Rezept
Zutaten
2 Tassen Mehl

2 Tassen Zucker

3/4 Tasse ungesüßtes Kakaopulver

2 Teelöffel Backpulver

1 1/2 Teelöffel Backsoda

1 Teelöffel Salz

1 Teelöffel Esspressopulver –

Füge ich nie bei.

1 Tasse Milch/Buttermilch/Mandel- oder Kokosmilch –

Ich nehme Buttermilch.

1/2 Tasse pflanzliches Öl/ Kokosöl

2 große Eier

2 Teelöffel Vanilleextrakt

1 Tasse kochendes Wasser
Zubereitung
Ofen auf 175°C vorheizen. Zwei 23cm-Backformen (Anm. Franzi: quadratische Formen der kanadisch/amerikanischen Küche – bitte selbst testen, welche deutsche Form da adäquat passt ;-)) fetten und leicht bemehlen.

Mehl, Zucker, Kakao, Backpulver und -soda, Salz und Espresso in eine große Schüssel füllen und gut vermischen.

Milch, Öl, Eier und Vanille zugeben und auf mittlerer Stufe gut vermischen. Auf niedriger Stufe langsam das kochende Wasser zugeben, bis alles gut vermischt ist.

Teig auf beide Formen aufteilen und für 30-35min backen. Stäbchenprobe!!!

Aus dem Ofen nehmen und für 10min abkühlen lassen. Dann aus der Form nehmen und vollständig erkalten lassen.
Schokoladen-Buttercreme-Glasur
Zutaten
1½ Tassen weiche Butter

1 Tasse ungesüßter Kakao

5 Tassen Puderzucker

½ Tasse Milch

2 Teelöffel Vanilleextrakt
Zubereitung
Kakao in eine große Schüssel füllen und evtl. Klümpchen entfernen

Butter zufügen und gut verrühren.

Zucker und Milch abwechselnd – eine Tasse Zucker/ einen Esslöffel Milch – zur Mischung geben. Nach jeder Zucker/Milch Zugabe auf höchster Stufe 1min verrühren und fortfahren, bis alles aufgebraucht ist.

Vanilleextrakt und Espressopulver zugeben und gut verrühren.

Wenn die Glasur zu trocken scheint, esslöffelweise Milch zugeben.
Wenn die Glasur zu nass erscheint, esslöffelweiße Puderzucker zugeben, bis die richtige Konsistenz erreicht ist.